Real Estate Contracts and Real Estate Litigation
Commercial and Residential Real Estate Lawyers and Condominium Lawyers in Northern California
Real Estate Purchase Contracts, Specific Performance, Real Estate Agent and Broker Law, Real Estate Fraud and Nondisclosure, Condominium Law, Enforcement of CC&Rs, Restrictive Covenants, Express and Implied Easements, Prescriptive Rights, Encroachments, Boundary Line and Survey Disputes, Title Disputes, Quiet Title, Nuisance, and Litigation
Over 25 Years of Experience in Real Estate Contracts and Litigation
Our Law Firm's Real Estate Litigation Practice:
We represent buyers, sellers and owners of residential and commercial real estate, handling litigation involving a broad range of questions and disputes regarding real property sales, acquisition and ownership, including:
Buyer/seller contracts and disputes
Claims against contractors and developers for construction defects

Breach of contract litigation on behalf of buyers or sellers, including claims for damages or specific performance of a purchase contract
Condominium homeowners association law and disputes, litigation between homeowners associations and condo owners

Rescission or reformation of contracts and deeds, creation of constructive trusts
Co-owner disputes, tenants in common and real estate partition actions between co-owners

Buildings or structures that encroach or trespass on a neighbor's property
Neighboring property and boundary line disputes, including survey issues
Neighbor disputes re new construction or development projects by neighbors
Noise problems in condominiums and with neighbors, violation of City Noise Ordinances

Public nuisance, private nuisances, trespass, injunctions

Water rights and water drainage disputes

Landslides, soil and building subsidence, flooding damages
Easements, including prescriptive easements, implied easements, express easements as well as covenants running with the land, covenants, conditions or restrictions ("C.C.& R.s")
Adverse possession claims, prescriptive rights

Quiet title actions and title or ownership disputes
Title insurance claims, quiet title cases, escrow disputes, or other disputes involving defects in title or deeds to real property
Liability insurance, Homeowners Insurance, and property damage insurance claims and disputes

Commercial leases and landlord/tenant litigation
Real estate agent/broker law, real estate agent/broker licensing.
California Department of Real Estate disciplinary proceedings
Listing contracts, duty to disclose, fiduciary duties, and all related disputes
Construction contracts, mechanics liens, and Construction Defects

Mediation, arbitration, trials and appeals in all State and Federal courts in California

At the Wolff Law Office, we offer over 25 years of experience to clients throughout the Bay Area in California, representing clients in the litigation of a broad range of real estate issues.
George W. Wolff holds a master's degree (M.B.A.) in the business aspects of real estate from the University of California at Berkeley, is a longtime member of the California Association of Realtors (C.A.R.) Legal Hotline service, and understands the legal issues involved in real estate purchases, ownership and litigation, helping you avoid or resolve disputes as possible.
If you are involved in a residential or commercial real estate contract disagreement and you are unable to resolve your differences, you want an experienced real estate litigation attorney to protect your interests. In litigation, you want a lawyer with courtroom and trial experience - one who has successfully argued before the trial and appellate courts, in arbitration and mediation, and who will know what to anticipate from opposing counsel and how to prepare the best case to protect your rights.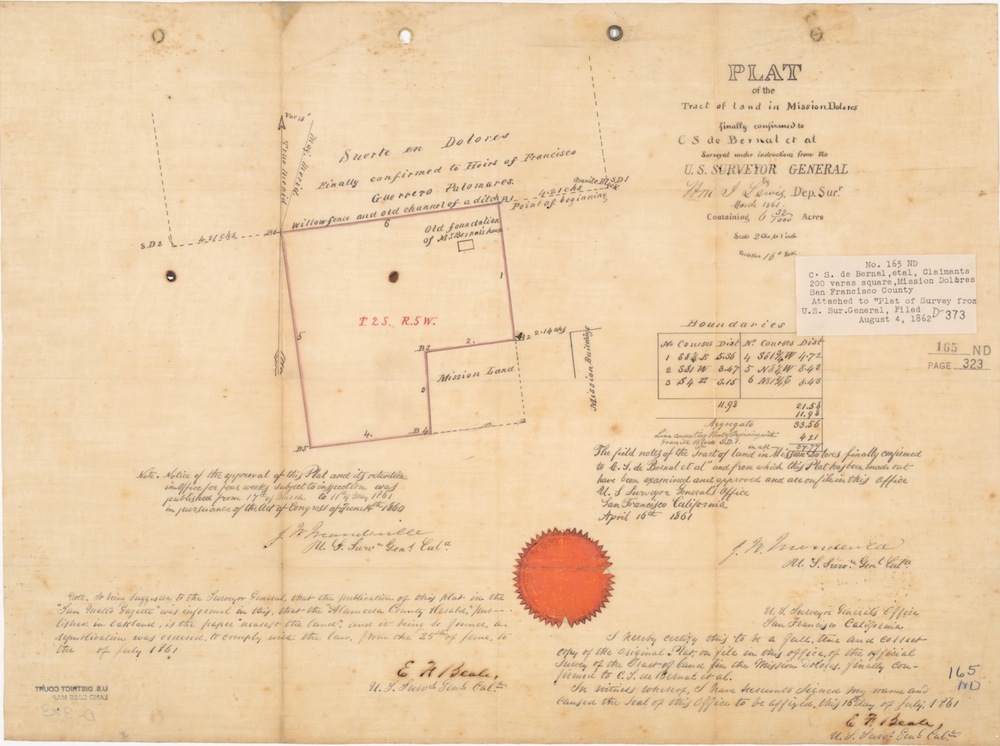 Plat of the tract of land in Mission Dolores, finally confirmed to C.S. de Bernal et al. : [San Francisco, Calif.] / Surveyed under instructions from the U.S. Surveyor General ; by Wm. I. Lewis, Deputy Surveyor, Circa 1861. (Courtesy of the Bancroft Library at the University of California, Berkeley)
Contact us by email or call us at 415-788-1881 to set up a free initial consultation about our real estate litigation services. We are available to meet with clients from 9 a.m. until 6 p.m., Monday through Friday, and evenings and weekends by appointment. If appropriate, we will make property and construction site visits.